(Deutsch) Polskie Nagrania / Maciej Golyzniak – The Orchid (Releasedate: 23.04.2021)
Posted on by Qrious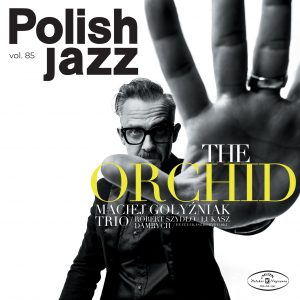 Polish Jazz
65. Label anniversary & 55th years of the "Polish Jazz" series
Poland occupies a special position in the European jazz scene, and for several reasons. After centuries of division, re-established as a state only after the First World War, jazz soon became an important part of the cultural identity of our eastern neighbor. Closely linked to the extremely productive Polish film industry, jazz developed an unmistakable idiom between Polish classical and folklore, Yiddish music and tango as well as American role models in the 1920s, which was able to develop independently by 1939. After German occupation and Stalinism, Polish jazz continued the tradition from 1956.
Musicians such as the trombonist Andrzej Kurylewicz as well as the pianists Andrzej Trzaskowski and the pianist Krzysztof Komeda , internationally recognized primarily for his Hollywood soundtracks, contributed to to formulate a genuine jazz idiom in front of other European countries. Komeda died in 1969, but fellow musicians from his bands such as saxophonists Zbigniew Namysłowski and Janusz Muniak , violinist Michał Urbaniak , pianist Adam Makowicz and trumpeter Tomasz Stańko should not only set the tone in Polish jazz for decades, but also belong to the elite of European jazz.
In times of political change in direction at the end of the 1980s, newly formed groups such as the Allstar Big Band Young Power provided a rebellious soundtrack to the uprisings in the Danzig shipyard and other places. After the end of the Cold War, many jazz musicians initially went to the West, but tireless mentors like Tomasz Stańko promoted young talent. Exciting youngsters like Kuba Więcek or Maciej Gołyźniak represent the esprit and authenticity of the youngest Polish jazz generation.
The "Polish Jazz" series has been documenting all developments in Polish jazz from Komeda to Gołyźniak since the mid-1960s. Originally published by the state record company Polskie Nagrania , the edition was reactivated by Warner Music and the classics of Polish jazz were brought to mind as well as the hidden treasures.
But that's not all, with new recordings of old warriors like Jan "Ptaszin" Wróblewski and Zbigniew Namysłowski as well as a number of promising young talents, the one that has been around for over six decades will continue Series led into the future.
Krzysztof Komeda Quintet – "Astigmatic"
No other album is as groundbreaking for the self-image of Polish jazz as "Astigmatic" (1965) by the quintet of pianist Krzysztof Komeda from Krakow. With saxophonist Zbigniew Namysłowski and trumpeter Tomasz Stańko he has two wind instruments at his side, who in turn should become the driving forces behind the development of Polish jazz. The quintet is completed by the German bassist Günter Lenz and the Swedish drummer Rune Carlsson . The three long compositions full of melancholy and drama set the tone of countless Polish jazz productions to this day. A few years later, Komeda went to the USA and made himself immortal with soundtracks for his compatriot Roman Polanski such as "Dance of the Vampires" and "Rosemary's Baby".
Jan "Ptaszin" Wróblewski sextet – "Komeda: Moja Słodka Europejska Ojczyzna"
The 85-year-old saxophonist Jan "Ptaszin" Wróblewski is one of the elder statesmen of Polish jazz. As early as 1962 he played in the Sextet Krzysztof Komedas . Unlike Tomasz Stańko or Zbigniew Namysłowski, he remained committed to hard bop throughout his life. On "Komeda: Moja Słodka Europejska Ojczyzna" (2016), the then 80-year-old powerhouse paid a lively tribute to its former mentor. The live recording not only incorporates his personal view of Komeda, but also the perspective of younger musicians such as the trumpeter Robert Majewski (Polish Jazz Vol. 70), the saxophonist Henryk Miśkiewicz strong> (Sun Ship, Polish Jazz Vol. 61) or the bassist Sławomir Kurkiewicz (Marcin Wasilewski Trio). strong>
Tomasz Stańko – "Music For K"
With his first album as a leader, Tomasz Stańko carried on the ideas of Krzysztof Komeda, who died in a grotesque accident in 1969, in 1971. With K nobody else but Komeda is meant, and with this LP the Komeda reception in Poland, which continues to this day, began. On the saxophones, Komeda companions Janusz Muniak and the later violin legend Zbigniew Seifert , who also died much too young, can be heard. Bassist Bronisław Suchanek and drummer Janusz Stefański soon formed the rhythm section of pianist Miecyłsaw Kosz on "Reminiscence" (Polish Jazz Vol. 25). "Music For K" is rightly regarded as one of the most important documents of Polish free jazz, without abandoning the poetry trained in Slavic folklore.
Tomasz Stańko – "Music'81"
Tomasz Stańko was a style chameleon who experimented with a variety of idioms. His hoarse trumpet tone was always characteristic, creating the greatest possible contrast to Miles Davis' timbre. On "Music 81" (1982) he finds a very coherent hinge between expressive free jazz and driving funk, which is constantly carried by an enigmatic swing. With drummer Chesław Bartkowski he has a comrade from Komeda at his side, pianist Sławomir Kulpowicz and bassist Vitold Szczurek , on the other hand, should first become important Developing exponents of Polish jazz in the 1980s. Thus "Music 81" stands for a stylistic reorientation of Stańko as well as for a paradigm shift in Polish jazz as a whole.
Zbigniew Namysłowski Quintet – "Kujawiak Goes Funky"
If ever there was a Polish jazz rock album that could compete with institutions like John McLaughlin's Mahavishnu Orchestra or Chick Coreas Return To Forever, it would be "Kujawiak Goes Funky" (1975). The very song-like melody is reminiscent of Krzysztof Komeda, but the instrumentation was at the height of a time when electric jazz was just transforming into fusion. With a double saxophone front, pensive electric piano (pianist Wojchiech Karolak was also an early Komeda partner), funky bass lines and happily syncopating drums Namysłowski strong> wide arcs of tension. The 20-minute title track alone is so rich in catchy melodies that you could conjure up an entire album from it. "Kujawiak Goes Funky" is a prime example of the folkloric sparkle of Polish jazz.
Michał Urbaniak Constellation – "In Concert"
In Poland there is an incomparable concentration of expressive jazz violinists who, in addition to Zbigniew Seifert , can be traced back to Michał Urbaniak . Unlike Seifert, who is considered the Coltrane counterpart on the violin, Urbaniak relied more on electrical sound research. Together with his wife Urszula Dudziak , who has long been considered the most adventurous singer in Europe, the keyboardists Wojchiech Karolak and Adam Makowicz (Polish Jazz Vol. 35 , 43) and drummer Chezław Bartkowski (Polish Jazz Vol. 50) he founded the band Constellation.
"In Concert" (1973) offers hypnotic space jazz that sounds like a Polish translation of "Bitches Brew". No wonder that Miles Davis Urbaniak hired 13 years later for his album "Tutu".
Maciej Gołyźniak – "The Orchid"
The drummer Maciej Gołyźniak belongs to the youngest generation of Polish jazz. The dominant moment of his music is movement, whereby he does not want to commit to one direction, but breaks out equally in all directions. His trio, which is complemented by flugelhornist Łukasz Korybalski in four of the seven tracks on "The Orchid" (2020), is characterized by playful arrogance and an infectious lust for the Look for unusual sounds. Comparisons to the Esbjörn Svensson Trio or Bugge Wesseltoft's band Rymden may be obvious, but with Gołyźniak the rebellious urge for independence that has been characteristic of Polish jazz since the beginning is also noticeable.
Watch the official video for the first single outtake ' The Restless Rains '
(Maciej Gołyźniak Trio feat. Łukasz Korybalski) here: https://www.youtube.com/watch?v = mo99qNT9sJo
Facebook : https://www.facebook.com/MaciekGolyzniakOfficial