Minck – Einsame Inseln (Releasedate: 30.04.2021)
Posted on by Qrious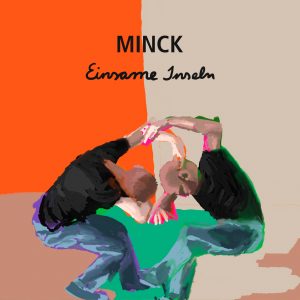 Pop, indie, mainstream, avant-garde, art, commerce.
In Germany, where a distinction has always been made between E- and U-Culture, artists have to decide: Which segment should be served? And who is the target group anyway? Newspaper columnists – or rather the TV viewers of PRO7? In any case, the musical career of Oliver Minck is shaped by the fact that these questions have always been left open. And to claim that this strategy put him on the road to success would be a lie. A small community of initiated connoisseurs still feasts on the four albums released between 2005 and 2012 by his minimalist piano pop duo WOLKE , and also as singer and songwriter of the rock formation DIE SONNE that emerged from Wolke many a heart flew to him – but a stable career could not be established between the chairs.
Too much ambivalence, too much brokenness, too much subversion – and just too little clarity and one-to-one. Bad for the musician's bank balance, good for his art. Because here saturation is nil – everyday life remains a struggle and the defense of one's own musical existence is like the much-cited battle against the windmills.
That Oliver Minck does not allow the dark powers of ignorance to withdraw his license to, well, flutes, however, he proves with his solo album EINSAME ISELN , which will be released in spring. The OLIVER MINCK ERFAHRUNG had already gone it alone in 2009, but the new work published under the surname MINCK now marks the step towards long-term independence.
All songs were initially sketched out in home work using analog and electronic instruments, only then were they put through their paces, styled and refined in the studio of the producer and Die Sonne guitarist Boris Rogowski .
"I will never change", Oliver Minck sings in a kind of empowerment hymn, a "My Way" for losers – and with this the agenda is already in a nutshell:
He still undermines courtesy, countering light-footed pop with biting melancholy and dark humor, leaving space for joy, but also for suffering. And whoever is overwhelmed by all of this, unfortunately, cannot be helped. The first single "Heute" is then also a prime example of the MINCK' world view: a mixture of fluffy guitars and groovy electro beats, crowned by an outrageously catchy melody. Good mood galore. Actually – because despite all the euphoria, the abyss is of course not far away: "Tomorrow is war, but not today, we love each other today."
The extremes are explored on LONELY ISLANDS : A song like "Echt" offers gloomy alienation without a false bottom, "Summer forever" works with one Text / music scissors – while the lyrics conjure up paradise in an almost naive way, the background music evokes the creeping feeling that something must be wrong with the matter. Or not?
Press releases are generally used for advertising and not as a deterrent. Nevertheless, be warned: Despite its supposed accessibility, LONELY ISLANDS is not an easy thing. You have to be willing to step into uncertain terrain, to give a clear interpretation, let alone to forego positioning and to leave things open.
Volunteer before!
(Text by Kurt M. Richter)
www.facebook.com/minckminckminck