Minck – Einsame Inseln (Releasedate: 30.04.2021)
Posted on by Qrious
[:de]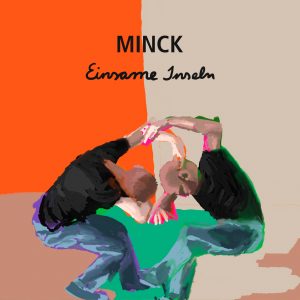 Pop, Indie, Mainstream, Avantgarde, Kunst, Kommerz.
In Deutschland, wo seit jeher zwischen E- und U-Kultur unterschieden wird, müssen Künstler sich festlegen: Welches Segment soll bedient werden? Und wer ist überhaupt die Zielgruppe? Zeitungsfeuilletonisten – oder doch eher die Fernsehzuschauer von PRO7? Die musikalische Laufbahn von Oliver Minck ist jedenfalls davon geprägt, diese Fragen seit jeher offengelassen zu haben. Und zu behaupten, er sei mit dieser Strategie auf die Erfolgsspur geraten, wäre glatt gelogen. Eine kleine Gemeinde eingeweihter Connaisseure labt sich zwar noch heute an den vier zwischen 2005 und 2012 veröffentlichten Alben seines minimalistischen Pianopop-Duos WOLKE, und auch als Sänger und Songwriter der aus Wolke hervorgegangenen Rockformation DIE SONNE flog ihm so manches Herz zu – eine stabile Karriere ließ sich zwischen den Stühlen aber nicht errichten.
Zu viel Ambivalenz, zu viel Gebrochenheit, zu viel Subversion – und eben zu wenig Eindeutigkeit und Eins-zu-eins. Schlecht für den Kontostand des Musikers, gut für seine Kunst. Denn hier ist Saturiertheit Fehlanzeige – der Alltag bleibt ein Struggle und die Verteidigung der eigenen Musikerexistenz gleicht dem vielzitierten Kampf gegen die Windmühlen.
Dass Oliver Minck sich die Lizenz zum, nun ja, Flöten von den dunklen Mächten der Ignoranz jedoch nicht entziehen lässt, beweist er mit seinem im Frühjahr erscheinenden Solo-Album EINSAME INSELN. Schon 2009 hatte es mit der OLIVER MINCK ERFAHRUNG einen ersten Alleingang gegeben, doch das unter dem Nachnamen MINCK veröffentlichte neue Werk markiert nun den Schritt in die längerfristige Selbstständigkeit.
Alle Songs wurden zunächst einmal in Heimarbeit mithilfe analoger und elektronischer Instrumente skizziert, erst dann wurden sie im Studio des Produzenten und Die-Sonne-Gitarristen Boris Rogowski noch einmal auf Herz und Nieren geprüft, frisiert und veredelt.
"Ich werd mich niemals ändern", singt Oliver Minck in einer Art Empowerment-Hymne, einem "My Way" für Loser – und hiermit ist die Agenda auch schon auf den Punkt gebracht:
Noch immer unterwandert er die Gefälligkeit, kontert leichtfüßigen Pop mit beißender Melancholie und dunklem Humor, lässt der Freude ihren Raum, aber eben auch dem Leid. Und wen das alles überfordert, dem ist leider nicht zu helfen. Die erste Single "Heute" ist dann auch ein Paradebeispiel für die MINCK'sche Weltanschauung: eine Mischung aus flockigen Gitarren und groovenden Elektrobeats, gekrönt von einer geradezu unverschämt eingängigen Melodie. Gute Laune galore. Eigentlich – denn trotz aller Euphorie ist der Abgrund natürlich nicht fern: "Morgen ist Krieg, aber nicht heute, heute haben wir uns lieb."
Auf EINSAME INSELN werden die Extreme ausgelotet: Ein Song wie "Echt" bietet düstere Entfremdung ohne doppelten Boden, "Sommer für immer" arbeitet mit einer Text-/Musik-Schere – während die Lyrics auf geradezu naive Weise das Paradies heraufbeschwören, evoziert die musikalische Untermalung das schleichende Gefühl, dass an der Sache doch etwas faul sein muss. Oder doch nicht?
Pressetexte dienen gemeinhin der Werbung und nicht der Abschreckung. Trotzdem sei hiermit gewarnt: Trotz seiner vermeintlichen Zugänglichkeit ist EINSAME INSELN keine leichte Sache. Man muss gewillt sein, sich auf unsicheres Terrain zu begeben, auf eine klare Deutung, geschweige denn Positionierung auch mal zu verzichten und die Dinge offen zu lassen.
Freiwillige vor!
(Text von Kurt M. Richter)
www.facebook.com/minckminckminck[:en]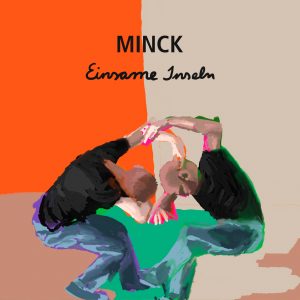 Pop, indie, mainstream, avant-garde, art, commerce.
In Germany, where a distinction has always been made between E- and U-Culture, artists have to decide: Which segment should be served? And who is the target group anyway? Newspaper columnists – or rather the TV viewers of PRO7? In any case, the musical career of Oliver Minck is shaped by the fact that these questions have always been left open. And to claim that this strategy put him on the road to success would be a lie. A small community of initiated connoisseurs still feasts on the four albums released between 2005 and 2012 by his minimalist piano pop duo WOLKE , and also as singer and songwriter of the rock formation DIE SONNE that emerged from Wolke many a heart flew to him – but a stable career could not be established between the chairs.
Too much ambivalence, too much brokenness, too much subversion – and just too little clarity and one-to-one. Bad for the musician's bank balance, good for his art. Because here saturation is nil – everyday life remains a struggle and the defense of one's own musical existence is like the much-cited battle against the windmills.
That Oliver Minck does not allow the dark powers of ignorance to withdraw his license to, well, flutes, however, he proves with his solo album EINSAME ISELN , which will be released in spring. The OLIVER MINCK ERFAHRUNG had already gone it alone in 2009, but the new work published under the surname MINCK now marks the step towards long-term independence.
All songs were initially sketched out in home work using analog and electronic instruments, only then were they put through their paces, styled and refined in the studio of the producer and Die Sonne guitarist Boris Rogowski .
"I will never change", Oliver Minck sings in a kind of empowerment hymn, a "My Way" for losers – and with this the agenda is already in a nutshell:
He still undermines courtesy, countering light-footed pop with biting melancholy and dark humor, leaving space for joy, but also for suffering. And whoever is overwhelmed by all of this, unfortunately, cannot be helped. The first single "Heute" is then also a prime example of the MINCK' world view: a mixture of fluffy guitars and groovy electro beats, crowned by an outrageously catchy melody. Good mood galore. Actually – because despite all the euphoria, the abyss is of course not far away: "Tomorrow is war, but not today, we love each other today."
The extremes are explored on LONELY ISLANDS : A song like "Echt" offers gloomy alienation without a false bottom, "Summer forever" works with one Text / music scissors – while the lyrics conjure up paradise in an almost naive way, the background music evokes the creeping feeling that something must be wrong with the matter. Or not?
Press releases are generally used for advertising and not as a deterrent. Nevertheless, be warned: Despite its supposed accessibility, LONELY ISLANDS is not an easy thing. You have to be willing to step into uncertain terrain, to give a clear interpretation, let alone to forego positioning and to leave things open.
Volunteer before!
(Text by Kurt M. Richter)
www.facebook.com/minckminckminck [:]