[:de]Isfar Sarabski – Planet (Releasedate: 30.04.2021)[:en]Isfar Sarabski [:]
Posted on by Qrious
[:de]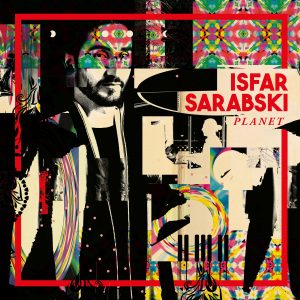 Dialog zwischen Seelen
Stellen wir uns den Einstieg in Isfar Sarabskis Debütalbum "Planet" szenisch, wie einen begeisternd-dramaturgisch ausgeloteten Konzertabend vor. Genügend Lorbeeren hat sich der 31 Jahre junge Pianist, Komponist und Arrangeur ja in der letzten Dekade live erarbeitet, um Theatersäle von beträchtlichen Größen zwischen seiner aserbaidschanischen Heimatstadt Baku, Berlin, New York und Los Angeles mühelos füllen zu können. Das Saallicht erlischt, ein Spot illuminiert den Flügel, an dem Sarabski zunächst mit meditativer Grundierung am Bühnenrand ins Geschehen führt.
"Deja Vu" hat er den Einstieg genannt, aber die Erinnerungstäuschung hält nicht lange an. 40 Sekunden später pausiert er für einen Augenblick, bevor er ein höchst anspruchsvolles Puls-Motiv anstimmt. Der Vorhang öffnet sich und gibt den Blick frei auf seine beiden Trio-Kollegen Mark Guiliana am Schlagzeug und Alan Hampton am Kontrabass. Die drei swingen dergestalt erbaulich, dass die Füße unmöglich stillhalten können. Just im Moment des emotionalen und kognitiven Begreifens dieser Musik, fällt blitzschnell ein weiterer Vorhang und lässt nicht nur einen Satz Streicher erblicken, der das rhythmische und harmonische Treiben herzerwärmend mehrdimensioniert. Auch das Wahrnehmungspanorama wird erneut schlagartig so erweitert, dass plötzlich alles möglich erscheint. Hier sind ganz offensichtlich drei Musikfreiheitsliebende am Werk, die von Streichinstrumenten unterstützt, einer Art kammermusikalischem Jazz zuspielen. Dessen komplexe Metrik dient allerdings keineswegs einem intellektuellen Kräftemessen-Selbstzweck.
Dass diese Musik der Imagination so vortrefflich Vorschub leistet, um sie sich mühelos im konzertanten Rahmen vorstellen zu können, obwohl man "nur" einer Studioaufnahme lauscht, spricht für ihre immense Vitalität. Deren Quelle ist Isfar Sarabski selbst, wie seine Vita anschaulich verdeutlicht. Während seines Stipendiums am Berklee College of Music in Boston, beeindruckte er Kommilitonen und Lehrer gleichermaßen mit seinem neugierig-aufgeschlossenen Mäandern zwischen Jazz-Impressionismus, Folklore-Tradition seiner Heimat und dem Erforschen von elektronischen Klangwelten. Die Fährte, der Sarabski seit über zwei Dekaden folgt, wurde in seiner Kindheit gelegt. Seine Mutter ist Geigen-Lehrerin, sein Vater ein großer Musikkenner, der neben Jazz, Rock, Soul und Funk, auch Bach, Brahms und Beethoven schätzt. Und sein Urgroßvater Huseyngulu Sarabski wurde im Orient als Musikpionier, Opernsänger, Musiker, Schauspieler und Bühnenautor verehrt.
Musik ist fraglos ein wichtiger Bestandteil in Isfar Sarabskis Genen. "Die Vinyl-Platten meines Vaters waren buchstäblich mein Spielzeug", erinnert er sich. "Ich war fasziniert von der Mechanik des Plattenspielers, von den großen schwarzen Scheiben, und natürlich von der Welt der Töne, Harmonien und Rhythmen, die sich darin offenbarten. Ich erinnere mich genau an die Gefühle, die mein erstes Wahrnehmen von Dizzy Gillespie-Platten, oder auch von Einspielungen der Werke Bachs und Chopins bei mir auslösten. Wie konnte es sein, dass Musik Bilder in meinem Kopf entstehen lassen konnte? Ich musste es herausfinden."
Gedacht, getan. Den ersten pianistischen Gehversuchen mit vier Jahren an einem einfachen Casio-Keyboard, folgte das eigene Piano, die Aufnahme in eine Musikschule in Baku, das Lernen der traditionellen Mugam-Improvisationssprache seines Landes, und das Entdecken der Katalogalben von Herbie Hancock, Miles Davis und Bill Evans. 1989 geboren, im Jahr des Falls der Berliner Mauer, war es für Sarabski gar nicht leicht, an die Platten der amerikanischen Jazz-Größen zu kommen, die sich nicht in der elterlichen Plattensammlung befanden. Das langsame Öffnen der ehemaligen Sowjetunion bedeutete letztendlich aber größere Zugänglichkeit westlicher Musik in Aserbaidschan. Mitte der ersten Dekade dieses Jahrhunderts hatte Isfars seine eigene musikalische Sprache gefunden. Orientalische Skalen harmonieren darin mit Mugam, druckvoller Rhythmik und einem satten Fundament von Jazz- und Klassik-Akkorden.
Die unmittelbare Aufrichtigkeit seiner Musik und ihr sinnträchtiger, emotionaler Gehalt, treffen auf elegante, intellektuelle Wonnen, die gleichzeitig den Geist stimulieren und das Herz bereichern. In der Ballade "Limping Stranger" hat Sarabski nach tief harmonischem Kontrabass-Monolog von Hampton einen Solo-Spot, der sein improvisatorisches Vermögen in aller filmischen, immer vom brennenden Drang nach dem Melodischen geprägten Ganzheitlichkeit perfekt beleuchtet.
"Swan Lake", die einzige Fremdkomposition auf "Planet", bringt Tschaikowskis Ballettmusik mit radikal neuem Arrangement dem Istzustand des Jazz näher. "Ich bin großer Klassik-Fan und besuche seit meiner Kindheit Theateraufführungen, Opern, Orchesterkonzerte. Klassische Musik ist in meinen Augen das Fundament für alle anderen Musikformen", kommentiert Sarabski.
"Die Idee für das Arrangement des Fragments aus 'Schwanensee' ist die logische Folge meiner fortwährenden Suche nach den Parallelen zwischen Moderner und Klassischer Musik." In der Solo-Piano-Passage des zweigeteilten Titelstücks "Planet" vertieft er dieses Ansinnen so geschickt als ob er klammheimlich Jazz im Stil Rachmaninows spielen wollen würde. Freiheitliche Momentaufnahme trifft darin auf verborgen liegende, im ersten Höreindruck gar nicht direkt präsente Kadenzen-Übungen.
"Das Album trägt den Namen 'Planet', weil es meine Gefühle und Ansichten zu unserem Planeten zusammenfasst", erklärt Isfar. "Die Menschen, die Geschehnisse in den letzten Jahren, die uns alle betrafen, und die neuen Situationen, mit denen wir klarkommen müssen, reflektiere ich in den Kompositionen mit dem Wunsch, darüber in den Dialog zu treten mit meinen Zuhörern."
Vielleicht gewinnt man deswegen im Verlauf des Albums zunehmend den Eindruck, gleichsam sowohl Kompositionen wie auch wortlosen Songs zu lauschen. Sarabskis Stücke folgen einerseits logischer Korrektheit in ihren architektonischen Aufbauten. Andererseits setzt er ihnen melodische Krönchen auf, die sangbar sind. Dieses Kunststück geht soweit, dass man sich darin üben möchte, nur noch ein bisschen genauer hinzuhören, um ungeschriebene Wörter in den Melodienführungen lesen zu können.
Im verhältnismäßig epischen "The Edge" erzählt das traditionell-aserbaidschanische Saiteninstrument Tar eine beinahe mystische Geschichte über die Kultur des Heimatlandes Sarabskis. Das geradezu fröhlich-funkige "G-Man" will Isfar im gleichen Maße als Alternative Form des Dialogs zu modernen Kommunikationsmitteln verstanden wissen, wie das ganze Album, sagt er.
"Für mich ist Musik Dialog, ein Dialog zwischen Seelen. Das Wachrufen tiefer, menschlicher Gefühle ist der wichtigste Grund dafür, warum ich Musik erschaffe. Meine bevorzugte Form des Dialogkonzepts ist die metrische und melodische Freiheit des Jazz. Die Jazz-Form ist äußerst hilfreich im Finden tiefsitzender, kleiner, aber wichtiger Details der Seele. Sie ist wie eine Art Code, der sich nicht immer zwangsläufig decodieren lässt, aber er ist in seiner Erscheinungsweise einzigartig. Deswegen wollte ich unbedingt mit 'Planet', einem ausgewiesenen Jazz-Album, meinen Platteneinstand begehen."
Trackliste
DEJA VU
LIMPING STRANGER
SWAN LAKE
PRELUDE
TRANSIT
THE EDGE
PLANET
G-MAN
NOVRUZ
ALL MUSIC COMPOSED & PRODUCED BY ISFAR SARABSKI
EXCEPT TRACK 03 (P.I. TCHAIKOVSKY)
ISFAR SARABSKI (PIANO)
ALAN HAMPTON (DOUBLE BASS & BASS)
MARK GUILIANA (DRUMS)
MAIN STRINGS ENSEMBLE & LEV TROFIMOV (CONDUCTOR)
THE EDGE, NOVRUZ: SHAHRIYAR IMANOV (TAR)
NOVRUZ: BAKU STRINGS QUARTET
PLANET: SASHA MASHIN (DRUMS), MAKAR NOVIKOV (DOUBLE BASS)
[:en]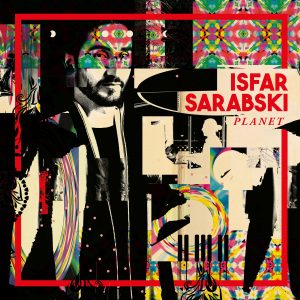 Dialogue between souls
Let's imagine the entry into Isfar Sarabski's debut album "Planet" as scenic, like an enthusiastic and dramatic concert evening. The 31-year-old pianist, composer and arranger has earned enough laurels live in the last decade to be able to effortlessly fill theaters of considerable sizes between his Azerbaijani hometown of Baku, Berlin, New York and Los Angeles. The hall light goes out, a spot illuminates the grand piano, on which Sarabski initially leads into the action with a meditative primer on the edge of the stage.
He called the entry "Deja Vu" , but the memory illusion doesn't last long. 40 seconds later he pauses for a moment before starting a highly demanding pulse motif. The curtain opens to reveal his two trio colleagues Mark Guiliana on drums and Alan Hampton on double bass. The three swing so edifyingly that the feet cannot possibly hold still. Just at the moment of the emotional and cognitive comprehension of this music, another curtain falls in a flash and not only allows a set of strings to be seen, which warmly multidimensionals the rhythmic and harmonic goings-on. The perceptual panorama is again suddenly expanded so that everything suddenly appears possible. Obviously three music lovers are at work here, supported by string instruments, playing a kind of chamber music jazz. Its complex metric, however, by no means serves an intellectual test of strength as an end in itself.
The fact that this music stimulates the imagination so admirably that it can be easily imagined in a concert setting, even though you are "only" listening to a studio recording, speaks for its immense vitality. Its source is Isfar Sarabski himself, as his vita clearly shows. During his scholarship at Berklee College of Music in Boston, he impressed fellow students and teachers alike with his curious and open-minded meander between jazz impressionism, the folklore tradition of his homeland and the exploration of electronic soundscapes. The track that Sarabski has been following for over two decades was laid in his childhood. His mother is a violin teacher, his father a great music connoisseur who, in addition to jazz, rock, soul and funk, also appreciates Bach, Brahms and Beethoven. And his great-grandfather Huseyngulu Sarabski was revered in the Orient as a music pioneer, opera singer, musician, actor and playwright.
Music is unquestionably an important part of Isfar Sarabski's genes. "My father's vinyl records were literally my toys," he recalls. "I was fascinated by the mechanics of the turntable, by the large black discs, and of course by the world of tones, harmonies and rhythms that were revealed in them. I remember exactly the feelings that my first perception of Dizzy Gillespie records, or recordings of the works of Bach and Chopin, triggered in me. How could it be that music could create images in my head? I had to find out. "
Thought and done. The first pianistic attempts at a simple Casio keyboard at the age of four were followed by own piano, admission to a music school in Baku, learning the traditional Mugam improvisation language of his country, and discovering the catalog albums by Herbie Hancock, Miles Davis and Bill Evans. Born in 1989, the year the Berlin Wall came down, it was not easy for Sarabski to get the records of the American jazz greats that were not in their parents' record collection. The slow opening of the former Soviet Union ultimately meant greater access to Western music in Azerbaijan. By the middle of the first decade of this century, Isfars had found its own musical language. Oriental scales harmonize with mugam, powerful rhythms and a rich foundation of jazz and classical chords.
The immediate sincerity of his music and its evocative, emotional content meet elegant, intellectual delights that simultaneously stimulate the mind and enrich the heart. In the ballad "Limping Stranger" , Sarabski has a solo spot after a deeply harmonious double bass monologue by Hampton, which perfectly illuminates his improvisational ability in all cinematic wholeness, always characterized by the burning urge for the melodic.
"Swan Lake" , the only third-party composition on "Planet" , brings Tchaikovsky's ballet music closer to the current state of jazz with a radically new arrangement. "I am a big fan of classical music and have been attending theater performances, operas and orchestral concerts since I was a child. In my opinion, classical music is the foundation for all other forms of music, "comments Sarabski.
"The idea for the arrangement of the fragment from 'Swan Lake' is the logical consequence of my ongoing search for parallels between modern and classical music." Deepened in the solo piano passage of the two-part title track "Planet" he was so clever at this request, as if he wanted to secretly play Jazz in the style of Rachmaninoff. Freedom snapshots meet hidden cadences exercises that are not directly present in the first auditory impression.
"The album is called 'Planet' because it summarizes my feelings and views about our planet, "explains Isfar. "The people, the events in recent years that have affected us all, and the new situations we have to deal with, I reflect in the compositions with the wish to enter into a dialogue with my audience."
Perhaps that's why, as the album progresses, one gets the impression of listening to both compositions and wordless songs. On the one hand, Sarabski's pieces follow a logical correctness in their architectural structures. On the other hand, he puts melodic crowns on them that can be sung. This feat goes so far that one would like to practice listening just a little more closely in order to be able to read unwritten words in the melody guides.
In the relatively epic "The Edge" , the traditional Azerbaijani string instrument tar tells an almost mystical story about the culture of Sarabski's homeland. Isfar wants the downright funky "G-Man" to be understood as an alternative form of dialogue to modern means of communication to the same extent as the whole album, he says.
"For me, music is dialogue, a dialogue between souls. Evoking deep, human emotions is the number one reason I create music. My preferred form of dialogue concept is the metrical and melodic freedom of jazz. The jazz form is extremely helpful in finding deep-seated, small, but important details of the soul. It is like some kind of code that cannot always be decoded, but it is unique in its appearance. That's why I really wanted to make my record debut with 'Planet', a recognized jazz album. "
Tracklist
DEJA VU
LIMPING STRANGER
SWAN LAKE
PRELUDE
TRANSIT
THE EDGE
PLANET
G-MAN
NOVRUZ
ALL MUSIC COMPOSED & amp; PRODUCED BY ISFAR SARABSKI
EXCEPT TRACK 03 (P.I. TCHAIKOVSKY)
ISFAR SARABSKI (PIANO)
ALAN HAMPTON (DOUBLE BASS & amp; BASS)
MARK GUILIANA (DRUMS)
MAIN STRINGS ENSEMBLE & amp; LEV TROFIMOV (CONDUCTOR)
THE EDGE, NOVRUZ: SHAHRIYAR IMANOV (TAR)
NOVRUZ: BAKU STRINGS QUARTET
PLANET: SASHA MASHIN (DRUMS), MAKAR NOVIKOV (DOUBLE BASS)
[:]