Noa – Afterallogy (Release date: 30.04.2021)
Posted on by Qrious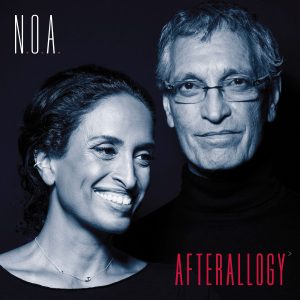 For the last 30 years Gil and I have been conducting an ongoing dialogue. The subject discussed is essentially the same: "what? and why?". Whereas "what" is relatively easy to answer – we simply do what we can, what we love, know or experiment with, what we are good at and feel we can contribute to, as we constantly learn new things, It is the "why" that propels the discussion.
Finally, it is the "why" that is responsible for everything we create.
The answers are distilled as the conversation goes on. Perhaps it is the deeply resonant ex-pression through crafted musicianship, of 'what it is to be human' that we're after. Maybe it's the memory of an early childhood experience of beauty that haunts us. A memory seeking a new birth, after having been reincarnated thousands of times through the artistry of monumental musicians throughout history… a legacy we treasure and respect, forcing us always to push ourselves to excellence, to depths and heights, making sure we do not betray the trust put in our hands by the muses, the god of music and the people who have opened their hearts to us for the past 30 years.
One way or another, this dialogue is, as our mentor and friend Pat Metheny says: our "Thing", and we're so lucky to have it.
Finally, we've given it a name: "Afterallogy".
After all is said and done, after 30 years, after a pandemic which shattered, jolted and stripped the world bare, after thousands of kilometers travelled and many more thousands of notes played and sung, what remains? A deep love and respect for great music and the greatness in music, a deep love for the humanity that is brought to life by it and elevated and illuminated in whoever experiences it. A deep appreciation for the gift of friendship… for each other… for "somebody to run with" as David Grossman writes, for the power and resonance that brought and kept us together all these years. And that curiosity and passion, that meticulous quest to unveil the deepest mysteries of music that drives us always onwards.
Gil and I met in October 1989, at the Rimon School of Jazz and Contemporary Music in Ramat HaSharon, Israel. I was a student, just out of the army. Gil was the academic director, a co-founder and revered teacher. He was also considered one of Israel's top musicians, able to play anything but specializing in jazz. From day one at the school, having come from the US, and been familiar with the standard Jazz / Broadway repertoire, I was immediately labeled a "Jazz Singer", though I never considered myself as such. From a young age, a Yemenite Israeli girl from the Bronx, I deterred labeling, and always found it distressing that people find it so difficult to relate to something they can not clearly compartmentalize. In that sense, I have not changed a bit. But of course, having been raised in NYC, fluent in English and immersed in all the amazing culture that great city had to offer, the 'American Songbook' of jazz standards was an essential musical root of mine. Diving into them was as natural to me as exploring my Hebrew or Yemenite roots . My goal was, then as today, only to "do right" with these amazing pieces of music… accentuating their greatness humbly, from a personal, respectful and loving point of view.
Gil and I performed our first concert together Feb 8th, 1990, in a Jazz festival in Tel Aviv which took place in the newly built Cinemateque. It was called 'Jazz, Movies and Videotape' (a takeoff on the then popular film, 'Sex, Lies and Videotape'). Rimon was given a slot in the festival and since the academic year had just begun, there were no ensembles well prepared enough to perform. Gil was asked to "put something together" and for that purpose, he chose that dark, wide-eyed Yemenite girl with an American accent, that everyone in school was talking about.
I was 20 years old, and this was my first real gig. Our show, for which we rehearsed extensively, consisted of standards we had arranged in unique ways, including original music and lyrics we braided into the songs, alongside some of my own original compositions. The audience that night was ecstatic. It felt like an atomic explosion of love and admiration, wonder and joy. We were stunned. Michael Handelzalts, the revered theater critic of Ha'artez newspaper, who chanced upon our performance, wrote one of the most incredible, positive (and decidedly uncharacteristic! ) reviews of his career after that scintillating night. He claims to be proud of it to this day 🙂
After that night, Gil called Pat Metheny in NY, whom he had met at the Berklee school years ago when Gil was a student and Pat was a teach (at age 19!), then later at Rimon when Pat was on tour in Israel, and asked him to meet me (I had flown home to visit my parents who still lived in the Bronx), and listen to my songs.
Pat ended up producing an album for Gil and me that changed our lives. It was not jazz, I don't know to this day what it was (or is)… but something about the songs, the melodies, harmonies and arrangements, charmed and impressed one of the greatest jazz musicians that ever lived, to the point, once again, very uncharacteristically, of agreeing to produce an album for a duo of Israeli musicians that nobody had heard of. Anyone who knows anything about the music industry, knows that is nothing short of miraculous.
Over the years, Gil and I explored many different regions of music… we wrote and performed hundreds of songs, going always deeply inwards while at the same time, reaching outwards.
We worked with ensembles ranging from acoustic trio to bass and drum quartet to symphony orchestra, we explored and fused different styles, sounds and languages, always reaching for that unexplainable, unpredictable moment of magic when everything comes together and the gates of heaven open, moments every musician lives for. It has always been impossible to categorize us. We insisted on doing only what we love, working only with people we admire and enjoy, and most of all, savoring every moment of the journey… recognizing it to be the song of our lives.
Then came 2020, and Covid-19 hit us all like a slap in the face. Tours were cancelled, theaters shut their doors, airports became deserted, fear and uncertainty seeped into the hearts of millions around the world. We all went home, and were told to stay home, until further notice.
So… what do we do now, asked the world?
Where is this all going, we asked each other?
After a few weeks of reeling and trying to get our bearings, Gil and I decided the time had come to record that jazz album we've had in us for all those year, closing a circle from that very first concert to the last before the sky fell… (ironically, that last gig was performed at the Berklee School of Music in Boston, where Gil and Pat Metheny had met…) 30 years.
I am lucky to have a studio in the basement of my home, a wonderful space with blue walls, colorful instruments, wooden floors and sunlight from the English Garden on both sides of the control room. I am also lucky that Gil, on top of playing and arranging and being generally brilliant, has taught himself how to work the studio like a professional engineer.
And so, through lockdown after lockdown, slowly and lovingly, between my kids' zoom sessions and the worrying news bulletins, in the face of tectonic forces
pulling the world apart, through waves of politics and power plummeting us all into a vast unknown… we recorded.
Gil sat by the console, pressed record, and started playing that gorgeous Gibson L5 of his. I sat in the other room, barefoot as always, in shorts and a t-shirt, with my beautiful old Neumann microphone, and surrendered to the music. We chose the songs we felt needed us most, but otherwise, planned very little. After 30 years, we really don't need to talk much about arrangements. The music comes. We understand it, and each other.
We know when it's not good enough, we know when it's great. Sometimes we'd do a song 30 times. Sometimes, 3. Whatever it took, to get it to that place that cannot be described, only felt. That moment when the sky opens and nothing else exists but music and light.
Shai Even and Gai Joffe came into the picture later on, helping us edit and mix. Two brilliant engineers and friends of many years. Ronen Akerman, who shot our first album cover when I was 21 and almost every album we've made since, took beautiful photos. Doron Edut designed. Ofer Pesenzon presided over it all.
And Afterallogy was born.
Hope you enjoy it.
(We're already planning the next adventure… 🙂
Love
Noa and Gil