Jaak Sooäär / Ara Yaralyan / Markku Ounaskari – A Shooting Star (Releasedate: 12.10.2018)
Posted on by Qrious
[:de]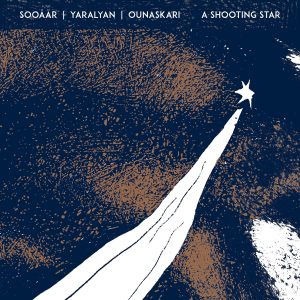 Plötzlich schießt aus dem Nirgendwo ein Meteor über den nächtlichen Septemberhimmel und erleuchtet die Landschaft. In Erinnerung an dieses Licht-Ereignis Anfang des Jahrtausends auf der Insel Vormsi vor der estnischen Westküste schrieb Jaak Sooäär den Song "Sabaga Täht". In einer Aufnahme mit seiner Band Eeste Keeled (Estnische Saiten) wurde das Stück für einige Zeit recht populär, und jetzt hat Jaak Sooäär sein neues Album nach diesem Song benannt. Der Titel ist vorsichtshalber ins Englische übersetzt: A Shooting Star. Auf Deutsch heißt das "Sternschnuppe". Das Lied ist darauf in einer rein instrumentalen Fassung enthalten, der Text auf Estnisch und Englisch im Booklet abgedruckt.
Jaak Sooäär ist Gitarrist und einer der bekanntesten Jazzmusiker im Baltikum. Als er 1972 in Tallinn geboren wurde, war Estland noch eine Sozialistische Sowjetrepublik. Mit sieben wurde er Mitglied im Estnischen Knabenchor und machte bald mit ihm seine ersten Konzertreisen in der UdSSR. Später studierte er in Tartu, Tallinn und Kopenhagen und begann 1989, in der Jazz- und Pop-Szene in seinem Heimatland zu arbeiten. Mittlerweile ist die Liste der international prominenten Jazzmusiker, mit denen er zusammengearbeitet hat, stattlich. Seit 2001 lehrt er Gitarre in der Jazz-Abteilung der Estnischen Musik- und Theaterakademie (Eesti Muusika- ja Teatriakadeemia) in Tallinn und leitet diese Abteilung seit 2004.
"A Shooting Star" ist ein überaus ruhiges, melodiöses und klangintensives Album. Das ergibt sich nicht automatisch aus der Besetzung mit E-Gitarre (Jaak Sooäär), Bass (Ara Yaralyan) und Schlagzeug (Markku Ounaskari). Neben Kompositionen des Bandleaders gibt es Stücke von Ara Yaralyan, die zum Teil Bearbeitungen traditioneller armenischer Lieder sind – und zwei Stücke von Johann Sebastian Bach. Jaak Sooäär ist nicht der Meinung, dass eine Bach-Kantate von vornherein einen höheren Wert haben sollte als ein Volkslied: "Mich interessieren ganz verschiedene Stile – von Bach bis zum Punk. Heute entsteht die interessanteste Musik meistens zwischen den Stilgrenzen", sagt er.
So fügen sich auf dem neuen Album verschiedene intime, zuweilen melancholisch erscheinende musikalische Erzählungen zueinander, die sonst kaum zueinander gefunden hätten.
Licht spielt auch als Thema eines anderen Stück eine große Rolle – nicht als plötzliche Erleuchtung allerdings, sondern als etwas fast Abwesendes: "Kaamos" heißt das vorletzte Stück. Das ist ein finnisches Wort für die Zeit um die Wintersonnenwende, wenn in Tallinn, in Helsinki und St. Petersburg die Sonne nicht aufgeht und jeder sich umso intensiver an sie erinnert.
Line-Up:
Jaak Sooäär – electric guitar; Ara Yaralyan – double bass; Markku Ounaskari – drums
Tracklisting:
1. Chinar Es (armenian trad.) 04:32
2. A Shooting Star (Sooäär) 04:35
3. Navasard (Yaralyan) 05:50
4. Ich ruf zu Dir, Herr Jesu Christ (J.S. Bach) 05:32
5. Andrzrew Ekav (armenian trad.) 04:12
6. Siciliano (J.S. Bach) 05:37
7. Lusni par Lusni Par (Yaralyan) 04:14
8. Kaamos (Sooäär) 05:37
9. Waltz For A.A. (Sooäär) 04:16[:en]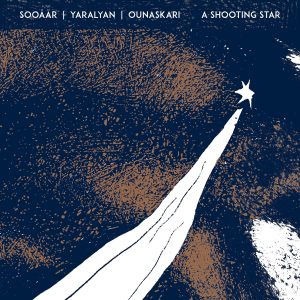 Trio consisting of guitar, bass and drums is often called "power trio" in jazz context.  Estonian guitarist Jaak Sooäär, Armenian/Estonian double bassist Ara Yaralyan and Finnish drummer Markku Ounaskari started their melodic power trio in spring 2016. Sooäär had recently performed often music by J. S. Bach and proposed some beautiful melodies by the great master of Baroque area to be played in a jazz trio context without changing the original ideas and harmony. Yaralyan proposed some ancient Armenian folk melodies and both Sooäär and Yaralyan added some compositions of their own. Markku Ounaskari is known for his delicate melodic drumming style and the conception and program of the new trio were easy to define. Since then the trio has performed in Finland and Estonia and their debut album will be released in September 2018.
Jaak Sooäär is one of the most active jazz musicians of the Baltics, who has performed with Ray Anderson, Anders Jormin, Han Bennink, Will Calhoun, Dave Liebman and Vladimir Tarasov among others. Ara Yaralyan is know of his work in Kari Ikonen Trio, he has also collaborated with Ingrid Jensen, Vardan Ovsepian and Verneri Pohjola to name a few. The most well-known member of the trio is Markku Ounaskari, who regularly collaborates with artists such as Arve Henriksen, Anders Jormin, Nils Petter Molvaer, Trygve Seim, Markus Stockhausen, Tore Brunborg, Mats Eilertsen and Lena Willemark and appears on several ECM albums.
Line up:
Jaak Sooäär – electric guitar; Ara Yaralyan – double bass; Markku Ounaskari – drums
Tracklisting:
1. Chinar Es (armenian trad.) 04:32
2. A Shooting Star (Sooäär) 04:35
3. Navasard (Yaralyan) 05:50
4. Ich ruf zu Dir, Herr Jesu Christ (J.S. Bach) 05:32
5. Andrzrew Ekav (armenian trad.) 04:12
6. Siciliano (J.S. Bach) 05:37
7. Lusni par Lusni Par (Yaralyan) 04:14Kaamos (Sooäär) 05:37
8. Kaamos (Sooäär) 05:37
9. Waltz For A.A. (Sooäär) 04:16[:]