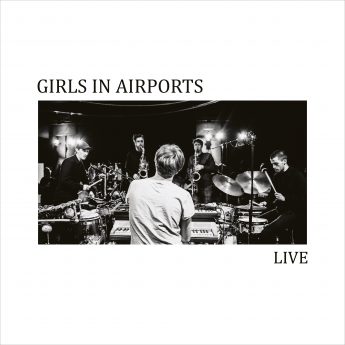 Künstler: GIRLS IN AIRPORTS
Albumtitel: LIVE
VÖ-Datum: 22.09.2017
Label: Edition Records
LabelCode: LC28731
Vertrieb DE/AUT/CH: Membran
GIRLS IN AIRPORTS steht für f2f-Interviews an den Tourtagen und vorab per Telefon zur Verfügung.
Koordination via Marcel Westphal (mw@qrious.de)
Danish supergroup Girls in Airports, one of the most talked about new bands on the international scene, release 'Live', their 5th and most captivating album to date, recorded over three concerts in Germany in 2017.
Danish super group Girls in Airports returns this Autumn with the release of their 5th album 'Live' recorded in Germany, April 2017. Described as 'a unique blend of Nordic jazz lyricism, indie-rock influences and sounds from around the world', their charismatic live performances have quickly made them one of the most talked about new bands on the international scene. Featuring four new tracks as well as eight finely honed performances from their previous three albums, 'Live' combines jazz, indie and urban folk into a unique expression of heart stirring melody-laden elegiac hooks and dance-friendly globally-influenced rhythms.
EDITION RECORDS PRESENTS
Featuring five of the most distinctive and creative musicians from the Danish scene, Girls in Airports has again lived up to the hype surrounding them as one of the most vital experimental ensembles in Europe. With a coherent and unique sound, their music is both absorbing and powerfully emotive. Moving elegantly between the raw and gritty percussive energy of ADAC (a title that references Aussie rockers AC/DC and a German vehicle breakdown service) to the blissful serenity of Aeiki , the band has delivered an intrinsically captivating album.
"Basically we are an old fashioned live band. Concerts have always been our main thing and playing concerts is how we reach people. We have been together for eight years now and many of the songs have changed so much since we first recorded them. It just makes sense to do a live album to document all that."
Live, the members of Girls in Airports have the skill and charisma necessary to add whole extra dimensions to their music. Listen to Migration develop and build compared with the studio recording. It's the perfect format for the band, allowing the music time to breathe and develop at its own pace, without studio restrictions. As saxophonist and primary composer Martin Stender explains. 'Playing live is really where the band comes together. We allow ourselves to be freer, more in touch with the music and in tune with each other. The energy created from a live concert, especially when the audiences are also connected with the music, is electric. We really felt that in these concerts'.
Live is beautifully recorded (by John Fomsgaard who has been working with Girls in Airports since the 4th album Kaikoura) at three concerts in Hamburg, Dresden and Berlin.
"Resonanzraum in Hamburg is a beautiful concert hall we rented. It is inside a huge bunker, but the room has been turned a concert hall for chamber music. Great acoustic sound. Ostpol in Dresden is a small club in retro 70s East German style. You can hear that it is a small wooden room from the two recordings from there: Fables and Episodes. Kantine am Berghain is part of the notorious Berlin night club Berghain. We drove there early to rehearse the new tunes. The owners of Berlin's wildest night club were not pleased to be woken up at 10am! John Fomsgaard our sound engineer made the local sound guy climb up and tighten all the screws in the loft lamps that were buzzing a lot after years of loud club music. He was not pleased either! The concert was the best however, and that is where most of the material is from."
Girls in Airports has produced a masterpiece of in-the-moment music that takes the inspired energy of their performances and brings that to the wider listening world. Great live albums are a direct connection to the band at the moment of conception – and 'Live' is great!
TRACKLISTING
Kantine 3.51
Kaikoura 3.36
Broken Stones 5.11
Fables 4.00
Episodes 4.38
Aeiki 6.50
Albert Kahn 4.15
ADAC 5.17
Need a Light 4.53
Migration 7.11
King's Birthday 3.28
Vejviser 3.39
LINE-UP
MARTIN STENDER saxophones
LARS GREVE saxophones and clarinets
MATHIAS HOLM keys
VICTOR DYBBROE percussion
MADS FORSBY drums
CREDITS
All Music written by Martin Stender and Girls in Airports
Produced by Girls in Airports
Executive Producer: Dave Stapleton
Recorded by John Fomsgaard in March 2017 in Germany at Resonanzraum, Ostpol and Kantine am Berghain.
Mixed by John Fomsgaard
Mastered by Emil Thomsen
Cover Photo by Robin Hinsch
TOURDATEN – präsentiert von byte.fm
Okt 2017 – Dortmund domicil, Germany
Okt 2017 – Münster Pension Schmidt, Germany
Okt 2017 – Berlin Prince Charles / Scope Festival, Germany
Posted on