FLO – Brave Ragazze (Releasedate: 20.05.2022)
Posted on by Qrious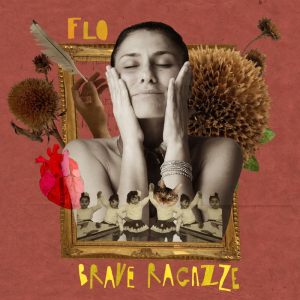 'Brave Ragazze' is the new album by the Neapolitan singer-songwriter Flo, out on the May 20th for SoundFly/EDEL Kultur
Official showcase selection at Internationale Kulturbörse Freiburg, nominated to "Freiburger Leiter" (Germany, January 2022)
A collection of ten pieces, of which six are reworkings or translations in Italian and four originals.
«Brave Ragazze is my first album as an interpreter – says Flo. When you sing what you write you already know the truth, you already know how things went. You know everything. The challenge is to take this all and bring it out so that it can excite people. Here it was different. I had to investigate the stories that generated these songs, imagine the trajectories and motivations of others. I had to discover someone else's whole, fill it with my own meaning, my own truth. I hope I have succeeded ».
Exciting melodies, profound lyrics, but above all expressions of a feminine point of view, extremely indomitable and courageous. Authors and protagonists of these songs are women divided between great successes and great solitudes, milestones of our music and our culture.
The first of the Brave Ragazze is Leda Valladares, singer and researcher of Tucuman, who with her recorder in the '40s, collected ancient songs, lonely screams and rituals that were gradually disappearing for the countryside and cities. The macabre irony of fate sentenced her to end her days in a clinic for Alzheimer's patients. A life spent for memory that ends with no more memories. Then Gilda Mignonette, the most famous Neapolitan singer in America, the Queen of emigrants. He died at sea, during the crossing from New York to Naples, after having expressed the desire to die in his beloved hometown. On the death certificate were reported the coordinates of the point where he died. Migrant forever. Gabriella Ferri could not be missing, the young girl from Testaccio, ironic and suffering, who becomes "Mamma Roma". A story that goes from folklore, to the good nights in New York, from television, to a difficult relationship with music and with the public. He had sung in Italian Grazias a la vida by Violeta Parra, another of these good girls. Violeta is an artist of sacrifice and passion, a fruitful and painful passion, which will take her from the streets of Santiago to the Louvre in Paris and beyond. A timeless artist, absolutely unforgettable. Then there is La Lupe, the Cuban artist with el diablo en el cuerpo, loved by Hemingway, Tennessee Williams, Marlon Brando. In his life there is exile, some say drugs, alcohol. His success in America was enormous, followed by oblivion in a wheelchair, homeless life and an evangelical crusade.
To complete the narration of this kaleidoscopic Female, four original songs – Maddalena, Boccamara, Furtunata and Malemaritate – respectively stories of the woman born male, of the wild femininity, of the adoptive mother and of the prostitute.
Special guests of this record are Paolo Angeli, extraordinary avant-garde musician and composer, who played in Maddalena and the inimitable and histrionic Peppe Servillo, who duet with Flo in Boccamara.
The idea
In 1952 Anna Banti wrote Women die to tell us about memory, immortality and women. The story is set in a very distant future in which, due to a disease called "second memory", men do not die and remember their previous lives, while women are condemned to live only one life, without retaining their memory. The gap between men and women increases: the former attribute it to the ancient prejudice of the "little brain of women" and quickly do without them, while women take refuge in isolated communities where, certain of their death, they dedicate themselves to art. One summer morning, the thirty-year-old musician Agnese, sure of having conquered her second memory, runs away from the institution that hosts it. After a week spent reflecting, she returns to her companions and commits suicide after giving a friend the diary of "her extraordinary adventure".
From reading this story Brave Ragazze was born and the desire to dig and recover extraordinary stories that still need to be told; songs like broken threads that haven't had time to tie firmly to our memory. Why women's stories die out with their life; they have a short wick, the flame lasts for a while and then … poof. It goes out at the first gust of wind. Brave Ragazze is like two joined hands, which protect that flame and help it resist the breath of time.
TRACKLIST
Brave ragazze
Boccamara Peppe Servillo
Furtunata
Gran Tirana
Maddalena Paolo Angeli
Maldigo del alto cielo
Milonga con sauces
Ferma Zitella
Me voi pe' te
Connola senza mamma
Malemaritate
 FLO Bio
Songwriter, author, theater actress and unpredictable entertainer, she made her debut in the world of musical theater at a very young age, under the aegis of Claudio Mattone. In 2014 his first album "Of love and other irreversible things" was released in Europe which, received with great enthusiasm by critics and the public, will obtain some of the most important Italian awards (Musicultura2014 Award, Absolute Award, Best Music and Best arrangement at the 2014 Parodi Award). Two years later he recorded "The month of the rosary" (Best text at the Bianca d'Aponte 2014 award, 2015 Musicultura Prize, among the candidates for the Tenco plates in the "Best album of the year" and "Best song" categories).
In 2018 she released her third album "La mentirosa" and in 2020 "31Salvitutti", which consecrate her among the most refined songwriters of the so-called World Music of the author. Some of the most important music journals in Europe (fRoots, Songlines) have written about Flo as an artist with a unique style, with a language full of references yet unpublished. His performances are a surprising rhythmic and engaging blend, in which there is melodic relaxation and improvisation, mystery, lightness and emotion. He recorded and shared the stage with Stefano Bollani, Paolo Fresu, Daniele Sepe, Enrico Rava, Jorge Hernandez, Elena Ledda and many others. In the theater she was the protagonist of musical and prose shows, directed by directors such as Alfredo Arias, Mimmo Borrelli, Davide Iodice. He has made soundtracks for cinema and theater, conducted a broadcast for Swiss radio and television, and participated in several documentaries for Deutschlandfunk Kultur. For Flo, music, theater and writing are just different ways of describing oneself and life; there are no barriers except to be crossed.
Artist
 Web: www.flo-official.com
YouTube: Flo Official YouTube Channel
FB: www.facebook.com/flo.official
CREDITS
FLO | BRAVE RAGAZZE
CATALOGUE SF 020(CD) – SFLP 004(YELLOW VINYL 180GR.)
Produced by Flo and Michele Maione
Arranged by Michele Maione
Played by:
Cristiano Califano | Bouzouki, classical guitar, chitarra battente and viola da gamba
Michele Maione | frame drums and percussions
Production by Bruno Savino
Recorded and mastered by Fabrizio Piccolo at Auditorium Novecento Napoli
Mixed by Michele Maione
Photo by Carlo Lommi
Artworks by Domenico Lettera