Dhafer Youssef – Sounds of Mirrors (Releasedate: 05.10.2018)
Posted on by Qrious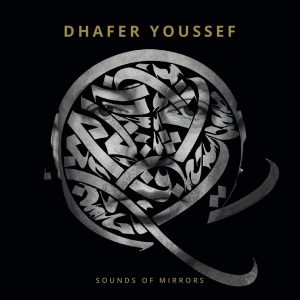 Some musicians experience a sacred and deeply intimate relation with their art. When a 19-year-old Dhafer Youssef discovered Indian music in Vienna, where he was studying classical music, it had the effect of a bewildering epiphany on him. Hindu sonorities struck a deep chord within Dhafer's musical soul – thirty years later, the Tunisian composer reminisces : « I was both filled with wonder as well as deeply convinced that one day I would be performing alongside the most legendary players of Indian music ». A memorable show from Ali Akbar Khan, the master of Indian sarod, at the Wiener Konzerthaus in Vienna came to seal the deal for the vocalist and oud master. From then on, Dhafer Youssef lived and breathed Indian music. Or was it Indian music that had appointed him to become its messenger?
Some dreams last longer than others, and some premonitions feel like prophecies. Nine records later, the travelling musician who contributed to bring in oud in jazz music had fulfilled his dream of playing Indian music and had invited percussionist Zakir Hussain on stage with him for a few shows while touring France. The match was made in heaven but a touch of colour was still missing – that of a wind instrument. Dhafer Youssef then brought along another « soulmate », Turkish clarinettist Husnu Selenderici. The trio tested live the living matter that eventually gave shape to the twelve tracks of Sounds of Mirrors. The recording started in Mumbai then carried on in Instanbul where Eivin Aarset, the Norwegian jazz guitarist with an ethereal style, joined the one-of-a-kind adventure. The record, which was originally meant to be a tribute to Zakir Hussain and tabla then took an unexpected turn.
« Keeping Indian culture as a background, I felt that we could angle
for something more universal… This recording felt to me like an ode
to friendship and fraternity. When we were playing together, I could feel quite
distinctly that we were as kindred spirits mirroring each other. Hence the
 name of the album, Sounds of Mirrors »
Dhafer says.
The mixing was conducted in the Swedish Nilento Studio, in Göteborg, and lends the album its light, cohesive quality. As soon as the opening track « Humankind » starts – a wonderful meditative number with orientalist tinges – Dhafer Youssef's head voice unites with the clarinet's to become one. Later on, with « Ruby Like Wine » and « Like Dust I May Rise », Dhafer asserts once more his talent for dream-like atmospheres that are built up with a real economy of notes. Everything is there for Eivind Aarset's celestial sustained notes to work their magic. « For me, this record is more meditative, more spiritual and more accessible than the previous one, Diwan of Beauty and Odd. Careful though – looking out for some inner peace and wisdom has nothing to do with a religious endeavour here » Dhafer cares to specify. A genuine product of musical maturity, his voice retreats to give way to a music which arises with radiance and lets all the delicate intricacies of composition as well as the talent of the soloist bloom.
Although the core of the record is made of five tracks which are rather contemplative (some of which are reminiscent of Jon Hassell's ambient utopias), Dhafer Youssef's taste for groove never tires. His odd rhythms sound like even beats, and an irresistible drive urges the listener to beat time, especially on « Dance Layan Dance » (in reference to his daughter), « Journey in Bergama », « Nasikhabhushani » or the catchy « Chakkaradaar ». The tones of Zakir Hussain's tablas resonate with precision all the while mingling with Dhafer's freestyling oud. « The older you get, the less you feel the need to justify what you're doing » Dhafer says with a smile. Dhafer Youssef and his enthralling, endless capacity for renewal offers the listener a golden opportunity to bear witness to new encounters, like so many musical colours that had never been imagined before. The art of sharing is one of fine alchemy.