Greg Lamy & Flavio Boltro – Letting Go (Releasedate: 08.06.2023)
Posted on by Qrious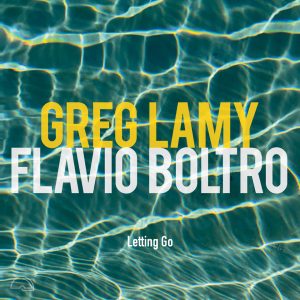 Greg LAMY & Flavio BOLTRO 
Letting Go
After "Meeting" (2013), "Press Enter" (2017) and "Observe the Silence" (2021), the American-Luxembourgish guitarist Greg Lamy is back with a fourth opus with Flavio Boltro, one of the most important trumpeters on the international jazz scene. After Bojan Z, guitarist Greg Lamy is back with a project with Flavio Boltro. Since the early 90s, the Piedmontese trumpeter has established himself as one of the essential blowers of the European scene. He was part of Michel Petrucciani's sextet, Michel Portal and Stefano di Battista's quintets, not to mention his own projects such as the recent "BBB" which caught Greg Lamy's attention through its modernity and the trumpeter's use of effects.
For "Letting Go", Boltro involved himself entirely in the conception of the album. With the trumpeter, Lamy discovered a complicity that they had the opportunity to deepen during many concerts in Europe before even considering a recording. "I knew we would connect in the studio," says Flavio. This need to refine the automatisms and to live the emotions on stage is clearly felt in the band's cohesion and spontaneity. It can also be felt in the sharing of compositions: six from the guitarist, three from the trumpet player. A last piece was chosen by Boltro, a composition by Pino Daniele "Chi Tene O'Mare", a title that reflects the ecological concerns of the moment.
"Letting Go" marks a clear evolution in the guitarist's playing. He distinguishes himself through the care put into the colours and the way he plays with spaces. The sound is increasingly refined, and the lightness of the accompaniment avoids overload. What stands out is the careful attention each player pays to the other. A disc of a bewitching spontaneity – all the themes are first takes! – and of a natural fluidity throughout.
Trackliste
01 BRIDGE HOUSE 4'03
02 COCCINELLE 5'20
03 ALBA MARINA 6'11
04 LET'S FLY 4'51
05 MY DEAREST (FOR CAMILLE, PART II) 6'56
06 ONIRICA 7'11
07 ENFIN 4'49
08 DADDY & DAUGHTER 4'44
09 IKB 3 3'15
10 CHI TENE O'MARE 5'54
GREG LAMY GUITAR
FLAVIO BOLTRO TRUMPET
GAUTIER LAURENT BASS
JEAN-MARC ROBIN DRUMS
All tracks written by Greg Lamy
Except tracks 2, 3 & 6 by Flavio Boltro and track 10 by Pino Daniele
Produced by Greg Lamy
Licensed by Igloo Records
Recorded at Studio des Bruères, Poitiers, by Sébastien Tondo (July 2022)
Mixed by Sébastien Tondo (January 2023)
Mastered by Raphaël Jonin (January 2023)
Photo duo by Marlene Soares
Photo band by Paulo Lobo
Artwork by Corbi
Homepage: www.greglamy.com
Teaser Video : https://www.youtube.com/watch?v=k_0EJ7ABH-8
Videos : https://www.youtube.com/watch?v=OWNnrdjSuwg
LIVE
23.06.2023 Jazzkeller, Frankfurt (D)
24.06.2023 Unterfahrt, München (D)