Brad Mehldau – Jacob's Ladder (Releasedate: 18.03.2022)
Posted on by Qrious
[:de]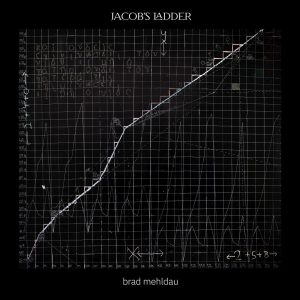 Brad Mehldaus "Jacob's Ladder" enthält neue Kompositionen, die inhaltlich vom Reflektieren der Heiligen Schriften und von der Suche nach Gott geprägt sind. Musikalisch wurde das neue Album vom Progrock inspiriert, den Mehldau als Jugendlicher verehrte, und der ihm als Einfallstor zu jener Form von Fusion diente, die ihn schließlich den Jazz entdecken ließ. Zu den Gast-Musikern zählen unter anderen sowohl Mehldaus Label-Kollegen Chris Thile und Cécile McLorion Salvant als auch Mark Guiliana, Becca Stevens und Joel Frahm. Ein Video-Clip zum Stück "maybe as his skies are wide" ist ab sofort hier zu sehen. Der Song basiert auf einer Umgestaltung der Interpolation eines Teils des Rush-Klassikers "Tom Sawyer".
"Wir werden nahe bei Gott geboren, doch je weiter wir reifen, desto beständiger rücken wir aufgrund unseres jeweiligen Egos weiter und weiter von ihm ab", erklärt Mehldau. "Jabob's Ladder" beginnt mit einer Kinderstimme an jener Stelle in Gottes Nähe. Anschließend findet eine Verschiebung in die Welt von Aktion und Wirkung statt. Gott ist immer in der Nähe, aber während unserer Entdeckungen und Eroberungen, sowie der Freuden und Leiden, die sie nach sich ziehen, verlieren wir ihn vielleicht aus den Augen. Er setzt jedoch, wie in Jacobs Traum, eine Leiter vor uns, die wir hinaufsteigen, in seine Richtung, um Versöhnung mit uns selbst zu finden, und um alle weltlichen Wunden zunähen zu können, damit sie schlussendlich heilen dürfen. Die Platte endet mit meiner Vorstellung vom Himmel, erneut durch die Augen eines Kindes betrachtet – seines Kindes, in ewiger Gnade, in Ekstase."
"Der musikalische Leitfaden ist Prog", führt Mehldau weiter aus. "Prog – Progressive Rock – war die Musik meiner Kindheit, bevor ich den Jazz entdeckte. Prog passte gut zu den Fantasy- und Science-Fiction-Büchern von C.S. Lewis, Madeleine L'Engle und anderen Autoren, die ich damals, im Alter von zehn bis zwölf Jahren, las. Prog öffnete mir die Tür zur Fusion von Miles Davis, von Weather Report, dem Mahavishnu Orchestra und anderen Gruppen, die mir wiederum den Weg zu viel mehr Jazz wiesen. Die Parallele zwischen Jazz und Prog bestand für mich im erweiterten Umfang des Ausdrucks, und, verglichen mit der Rockmusik, die ich bis dahin kannte, in großambitionierten Ausmaßen."
"Der Progrock von Rush, Gentle Giant und Emerson, Lake and Palmer deutet auf meinem neuen Album vor allem auf die kompositorische, konzeptionelle und emotionale Bandbreite des Genres hin. Der Einfluss dieser und anderer Prog-Bands auf jüngere Gruppen hält an, die wiederum ihrerseits die Schauplätze von Hard-Rock und schreiendem Math-Metal mit Prog-Impulsen bereichern. Ich denke an Bands wie Periphery, deren Musik sich auf meinem neuen Album wiederfindet – nicht zuletzt was die brüllenden Stimmen im Stück 'Herr und Knecht' angeht. Dennoch habe ich versucht, die direkte Tribut-Herangehensweise in sämtlichen der neuen Songs zu vermeiden. Stattdessen entschied ich mich in einigen Stücken für kleine Zitate oder fürs Überarbeiten von Motiven."
Obschon Brad Mehldau vor allem als Jazz-Komponist und -Improvisator bekannt ist, veröffentlichte er eine Reihe von Alben, die außerhalb seiner eigentlichen, musikalischen Heimat spielen. "Largo", von Jon Brion produziert, und 2001 erschienen, lebt von vielschichtigen Texturen und großorchestriertem Umfang. Holzbläser- und Brass-Ensembles sind in etlichen Stücken zu hören, während Mehldau gleichzeitig den Schwerpunkt des Albums auf kraftvolles Schlagzeugspielen legte. 2010 erschien "Highway Rider", Mehldaus zweite Zusammenarbeit mit Brion. Das Album enthält sowohl Einspielungen seines Trios, dem Jeff Ballard (Drums) und Larry Grenadier (Bass) angehören, als auch Beiträge des Schlagzeugers Matt Chamberlain, von Joshua Redman, und einem Kammerorchester unter der Leitung von Dan Coleman. Mehldau orchestrierte und arrangierte darüber hinaus eigenhändig die 15 Stücke des Albums für das Ensemble.
"Mehliana – Taming The Dragon", seine 2014 veröffentlichte Zusammenarbeit mit Mark Guiliana, wurde von ihm an Fender Rhodes und Synthesizern, von Guiliana an Schlagzeug und Effekten eingespielt. Das Album umfasst 12 Eigenkompositionen – sechs von Mehldau, weitere sechs von Guiliana und Mehldau. 2019 erschien "Finding Gabriel", das Mehldau an Piano, Synthesizer, Percussion, Fender Rhodes, aber auch unter dem Nutzen seiner Stimme aufnahm. Zu seinen Gastmusikern zählen auf dem Album unter anderen Ambrose Akinmusire, Sara Caswell, Kurt Elling, Joel Frahm, Mark Guiliana, Gabriel Kahane und Becca Stevens.
"Mehldau can truly translate his thoughts and feelings into complex and lasting music. He is one of those people whose brain and fingers and musical ability is all one beautiful entity." —Jamie Cullum[:en]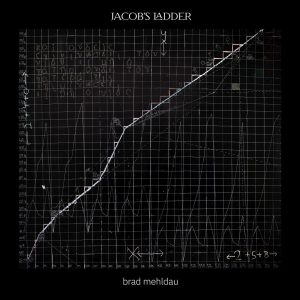 Nonesuch Records releases Brad Mehldau's Jacob's Ladder on March 18, 2022 on CD; a vinyl LP version will be released later in the year (exact date TBD). The album features new music that reflects on scripture and the search for God through music inspired by the prog rock Mehldau loved as a young adolescent, which was his gateway to the fusion that eventually led to his discovery of jazz. Featured musicians on the album include Mehldau's label mates Chris Thile and Cécile McLorin Salvant, as well as Mark Guiliana, Becca Stevens, Joel Frahm, and others. A video for 'maybe as his skies are wide' is available today here. The song builds off an interpolation of one portion of Rush's classic "Tom Sawyer." Nonesuch Store pre-orders include an exclusive signed, limited-edition print.
Mehldau explains, "We are born close to God, and as we mature, we invariably move further and further away from Him on account of our ego. Jacob's Ladder begins at that place closer to God with the voice of child, and then moves into the world of action. God is always there, but in our discovery and conquest, and all the joys and sorrows they bring, we may lose sight of him. He sets a ladder before us though, like in Jacob's dream, and we climb towards him, to find reconciliation with ourselves, to stitch up all those worldly wounds and finally heal. The record ends with my vision of heaven—once again as a child, His child, in eternal grace, in ecstasy.
"The musical conduit on the record is prog," Mehldau continues. "Prog—progressive rock—was the music of my childhood, before I discovered jazz. It matched the fantasy and science fiction books I read from C.S. Lewis, Madeleine L'Engle and others at that time, aged ten through twelve. It was my gateway to the fusion of Miles Davis, Weather Report, Mahavishnu Orchestra and other groups, which in turn was the gateway to more jazz. Jazz shared with prog a broader expressive scope and larger-scale ambitions than the rock music I had known already.
"The prog from Rush, Gentle Giant, and Emerson, Lake and Palmer here only hints at the genre's conceptual, compositional and emotional range. These bands and others have continued to influence newer groups that bring prog impulses into the arena of hard rock and screaming math metal, like Periphery, whose music is included here, and also inspired the screaming vocals on 'Herr und Knecht.' I tried to avoid a direct tribute approach to all the songs, and opted in some cases for excerpts, or reworking of themes."
Although Brad Mehldau is best known as a jazz composer and improviser, he has made several albums that fall outside of the mainstream jazz genre, including his 2001 Largo, produced by Jon Brion. Wide-ranging in texture and big in scale, it features woodwind or brass ensembles are on several tracks, as well as a heavy emphasis on powerful drums. In 2010, Nonesuch released his second collaboration with Brion, Highway Rider, which includes performances by Mehldau's trio—drummer Jeff Ballard and bassist Larry Grenadier—as well as drummer Matt Chamberlain, saxophonist Joshua Redman, and a chamber orchestra led by Dan Coleman. Mehldau also orchestrated and arranged the album's fifteen pieces for the ensemble.
Mehldau's 2014 collaboration with Mark Guiliana, Mehliana: Taming the Dragon featured Mehldau on Fender Rhodes and synthesizers and Guiliana on drums and effects, playing twelve original tunes—six by the duo and six by Mehldau. His 2019 album Finding Gabriel featured performances by him on piano, synthesizers, percussion, and Fender Rhodes, as well as vocals. Guest musicians included Ambrose Akinmusire, Sara Caswell, Kurt Elling, Joel Frahm, Mark Guiliana, Gabriel Kahane, and Becca Stevens, among others.
"Mehldau can truly translate his thoughts and feelings into complex and lasting music. He is one of those people whose brain and fingers and musical ability is all one beautiful entity." —Jamie Cullum[:]